Five Steps to Flaky Buttery Biscuits
In the words of my daughter, Lillian, at breakfast today, 'These biscuits are just like KFC!"
Opening up a can of refrigerated biscuits certainly is simple, yet, the ingredients list isn't so simple:
Enriched Flour Bleached (wheat flour, niacin, ferrous sulfate, thiamin mononitrate, riboflavin, folic acid), Water, Soybean and Palm Oil, Sugar, Baking Powder (sodium acid pyrophosphate, baking soda, sodium aluminum phosphate), Hydrogenated Palm Oil. Contains 2% or less of: Partially Hydrogenated Soybean Oil, Salt, Vital Wheat Gluten, Dextrose, Whey, Mono and Diglycerides, Xanthan Gum, Propylene Glycol Alginate, Natural and Artificial Flavor, Calcium Chloride, Preservatives (TBHQ, citric acid), Color Added. (Grands! Flaky Layers Buttermilk Biscuits)
With just a few, simple ingredients and a gentle touch, these biscuits could be on your plate in less than 30 minutes. All you will need is flour, baking powder, salt, butter, buttermilk, and honey.
I love to use my food processor when making pie crust or biscuits that require cold ingredients. But, of course, you could make these in a bowl as well. So simple: Five Steps to Flaky Buttery Biscuits!
Follow These Five Steps to Flaky Buttery Biscuits:
First, preheat your oven to 450 degrees. Next, combine 3 cups of Unbleached All-purpose flour, 4 ½ teaspoons of baking powder, and 1 teaspoon of salt in your food processor.
Second, cut up 1 cup of butter into small chunks and add to flour mixture. Pulse in the food processor until mixture looks crumbly. With the food processor running, slowly pour in up to 1 cup of buttermilk until dough comes together.
Third, put your dough on a floured surface and gently roll out. Fold into thirds, like an envelope. Repeat this process 5-6 times, rotating the dough a quarter turn each time you roll out the dough. Be very gentle in order to get those flaky layers.
Fourth, cut out with a biscuit cutter, or if you're like me, you might need to improvise. I used the rim from a mason jar lid which is not really sharp enough but it gets the job done! The sharper the cutter, the higher the rise you will get.
Fifth, place biscuits on a greased cookie sheet and bake 8-10 minutes until golden brown. After they come out of the oven, brush the tops with ¼ cup of melted butter, combined with 2 teaspoons of honey.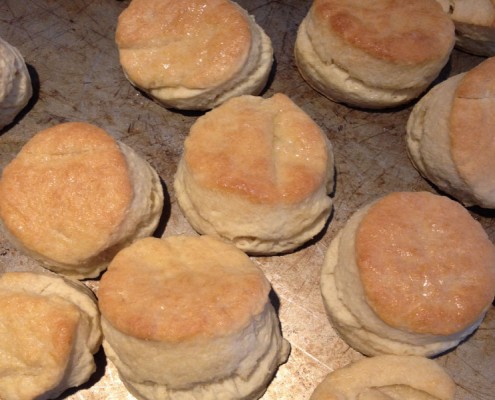 Enjoy the flaky, buttery goodness!